How to Change a Booking
1. Follow THIS LINK, which will open a booking page in a new tab. (or copy and paste into browser: https://wild-summmits.checkfront.com/reserve/ )
2. On the booking page hit LOG IN at the top right-hand corner:
3. Once you hit LOG IN, a dialogue box will appear giving you the option to CREATE AN ACCOUNT or SIGN-IN WITH GOOGLE. You can choose either of these options but you MUST USE THE SAME E-MAIL ADDRESS YOU USED TO MAKE THE BOOKING:
4. After signing in, you will see the booking page again, but with your name in the top right-hand corner. Click on YOUR NAME, and a drop-down menu will appear, from this menu hit PROFILE: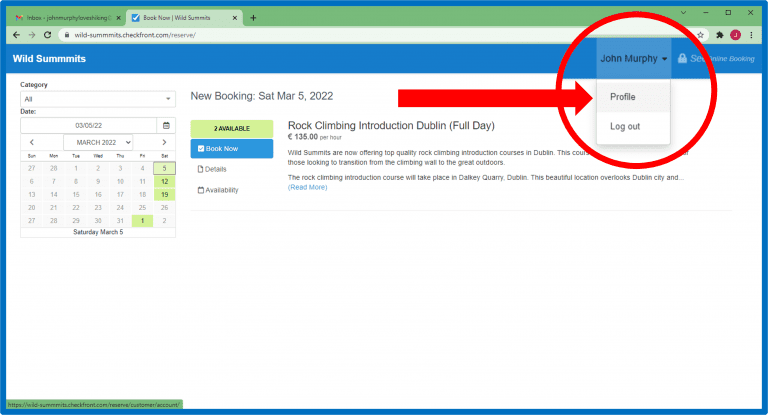 5. After hitting PROFILE, you will see a page with all your bookings. Select the blue BOOKING CODE of the booking you want to change:
6. You will then see an copy of your invoice for the original booking. Hit the EDIT THIS BOOKING link just above the top right-hand corner of the invoice:
7. On the next page, select EDIT ITEM beside the item from the booking you want to change:
8. A box will then appear where you can change the details of your booking. To change the date of your booking, click on the CALENDAR ICON:
9. This will display a calendar showing the available dates in green, simply click on your NEW DATE:
10. Once you have made your changes hit SAVE:
ONCE YOUR CHANGES HAVE BEEN APPROVED AND ANY BALANCE HAS BEEN PAID, YOU WILL RECIEVE AN EMAIL WITH YOUR NEW ORDER.