Disclaimer: Do not rely on your phone or apps to keep you safe. Technology is no replacement for understanding how to use a map or compass. In cold weather, a phone battery can instantly drain. Having an insulation pouch for your phone can help revive the battery.
1. Windy
Download: IOS | Android (Free)
With so many weather apps on the market, it can be hard to choose the right one. For me, Windy is the go-to app for weather. Windy really holds its own when it comes to…well…wind. Its visual display is fantastic for understanding wind direction and its wind gusts are predictions are very accurate.
Wind Gust: Wind plays a big factor in the Irish mountains, especially in winter, when the weather can suddenly turn. While many apps give the wind speed, little give the wind gusts, which are a more accurate representation of how things will be out on the field.
Subscribe to our newsletter
2. Hiiker
Download: IOS | Android (Free & paid)
The Hiiker app is by far the best app to have on your phone. Unlike All trails, it gives its users (paid) access to local apps such as the OS maps and also the East to West maps.
If anyone is familiar with the old Viewranger App, then this is it, only with a slicker design and user interface as well as having more maps and user options.
3. First Aid: IFRC
Download: IOS | Android (Free)
The official app from the International Federation of the Red Cross. It goes without saying that no app is a replacement for actual training. This app is fantastic with the information it has, and it's quick access layout makes things easy to navigate. I'd recommend this app purely as a learning tool if you have some free time on the bus etc.
In saying this, if you are someone that spends a lot of time in the outdoors, then I would recommend completing a REC 2 or REC 3 First Aid course. Ronan Lenihan runs fantastic courses. You can contact him at  [email protected]
2. Alltrails
Download: IOS | Android (Free)
All trails is the leading app for keeping you on track while out on the hills.  It is also the largest trail database in the world, which is pretty impressive.  The app can be used for a variety of reason, from finding the top trails in your local area to helping you relocate after taking a wrong turn or two…or three.
I have used this app multiple times while making my way to climbing venues in the mountains.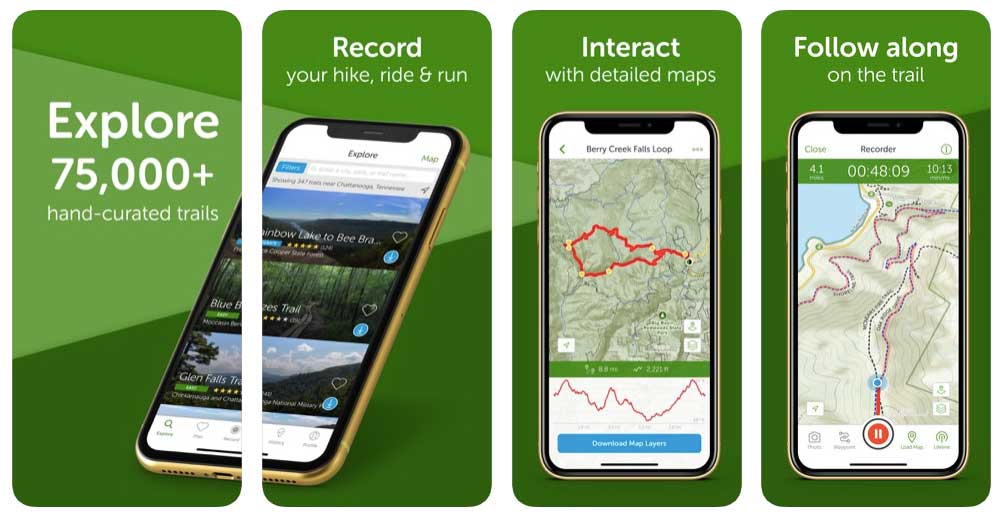 3. Sun Position & Sunrise
Download: IOS | Android (Free)
Want to catch the perfect sunset? This app makes it easy to locate where the sun will be at a certain time. The app is primarily used by photographers, but I have often used it in order to gauge what time I should kick off a group hike at. I want to know that the conditions are the best for a given hike.
A final note:
I believe in utilising the technology we have. Sometimes I will choose a GPS over a map and a piece of tech over my compass. What's important is understanding the limitations and understanding the context in how you are using your equipment. These are add-ons to your toolkit, but the foundation of your tool kit should start with the basics such as map reading and other navigational and mountain skills