Time: 7 hours
Distance: 12.5km / 14km
Difficulty: Difficult
Elevation: 900m Height
Difficulty: Difficult
Trail: Out-and-back or loop
Waymarked: No
Starting Point: See below
All Trails Map: Click Here
Lugnaquilla, Wicklow's highest mountain!
The aim of this guide is to give you all the information you need in order to take on Lugnaquilla with confidence! The following guide will detail summiting Lugnaquilla from Baravore car park. 
While not the easiest way of ascending Lugnaquilla, it is the most rewarding and takes in the best landscapes in the area.
This mountain needs to be on everyone's hiking tick list. If you have hiked in Wicklow, then Lugnaquilla is a must-do! This guide includes a route map, description and even covers some of the hazards you may meet along the way! 
Ireland's top adventure newsletter!
The starting point is at Baravore carpark, located at Glenmalure.
For the route detailed below, it can be useful to have two cars to save hiking the road back to the car park.
I have detailed the alternative finish below.
Many people will hike this trail as an out-and-back route, meaning you take the same route up and down. I prefer to do this route, descending via the zigzags. If you have a second car then this is best as you can leave it near the zigzag trail head. Either way, you'll be in for one of the best hiking days in the Wicklow Mountains!
The points marked above, bottom to top:
Barvore car park
Fraughan Rock 
Waterfall
Lugnaquilla Summit
Baravore Carpark
Once you leave Baravore car park, you will cross a river onto a path. Shortly afterwards, take a left up the miner's trail (marked). Here you will begin your ascent up through some forestry until you meet the main trail. Once you join on to the main trail, you take a left.
Fraughan Rock
After another ascent, the path begins to even out. Here you are brought through some of Wicklow's finest landscape as you enter into Fraughan Rock, the name given to this beautiful valley. Follow the trail until you come to the foot of the waterfall.
Waterfall
There are a variety of paths that can be taken up alongside the waterfall, remember, go slow, and don't forget to take in the atmosphere.
The trail can disappear in areas after the top of the waterfall. It is not uncommon for people to get lost here when there is cloud cover. If there is bad visibility, then make sure one of your group has adequate navigational skills.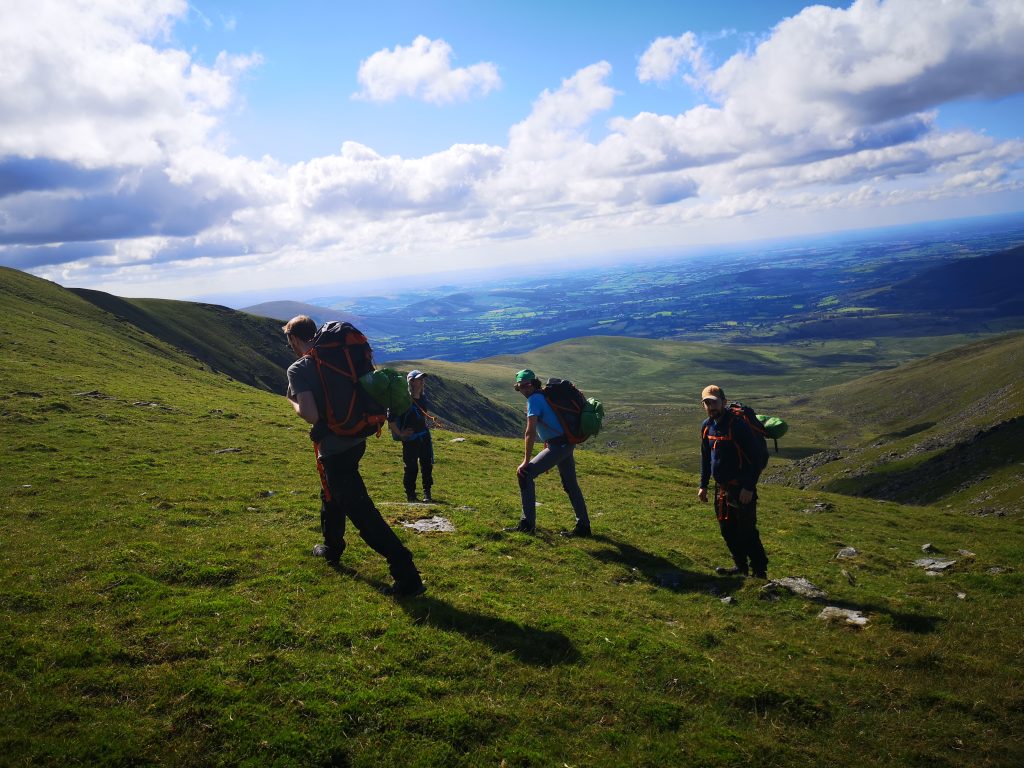 Clouds: Check the weather forecast and watch out for low-cloud cover. As stated above, it can be rather easy to get lost at parts.
Multiple times, I have met people who have walked the complete wrong way off the summit in bad visibility. The summit is extremely flat, and the structure above is circular. If you are not paying attention, then it can be easy to become disoriented. When the weather is bad, be completely aware of your direction and always bring a compass
Descent: via "The Zigzags"
Here are some points to follow when descending the Zigzags:
Leave the summit (North East)
Take a right (East)
Follow this spur (Cloghernagh)
After roughly 3.5 km, the descent will start to steepen dramatically.
After almost 2 km of steep descent, the path will reach a pleatue. It is here that you will pick up the trail for the Zigzags.
Coffee, Food & Accommodation
A simple mountain lodge in the style of an Irish traditional house, but it's for that very reason that it's so popular! Set in a place of great beauty that is both iconic and tranquil, it was originally built as a Hunting Lodge in 1903. Glenmalure has no running water and or electricity, so it's perfect for nature lovers who want to get away from it all and have a unique experience. 
Comeragh Mountains Expedition
If you want to explore the Comeragh Mountains, then why not join us on the Wild Summits overnight expedition.
The rock climbing in Glenmalure is mainly concentrated at "Great Gully" which can be seen from Fraughan Rock Valley. Here there is a wide variety of climbing in a fine situation. The most popular route is "Great Gully Ridge" and proves to be a fantastic day out for all parties.
Check out Dave Flanagan's Rock Climbing in Ireland
Wicklow offers some of the best hiking in the country, and in my opinion, Lugnaquilla stands in the top 3 hikes in Wicklow. It is a good day to test your mountain fitness, and the Baravore route takes you through some of Ireland's most beautiful mountain landscapes.
Check out our Top 5 Trail Hikes: HERE